Marquez Wants a Trilogy After Winning Unanimous Decision Over Diaz
Juan Manuel Marquez is back.
He's back for a third fight against Manny Pacquaio. Saturday night at Mandalay Bay Events Center, Marquez beat his fighter Juan Diaz with a unanimous decision from the judges. His fight was said to be the signal that he wants another fight with Pacquaio. Marquez displayed his brutal toughness as he took down Diaz for the two world lightweight titles.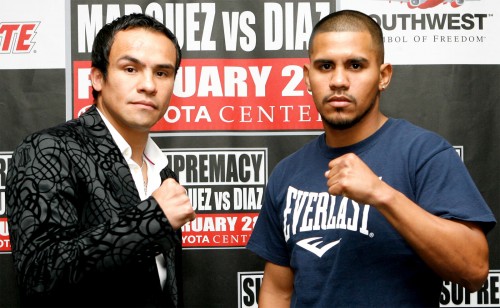 Marquez got the World Boxing Association and World Boxing Organization belts in his fight against Diaz. The judges scored him 118-110, 117-111, and 116-112 by Glenn Trowbridge, Patricia Morse Jarman and Jerry Roth respectively.
Marquez insists with a trilogy with Pacquaio. After a draw in 2004 and a lost-split decision in 2008, Marquez another fight, and this time he wants to get the win from Pacquaio. The Mexican boxer further explains that, "It's what everyone wants to see. It's good for all the fight fans. The Mexicans and the Filipinos wants to see it." Marquez says that he will be ready to fight by November and he is hoping that Pacquaio will be ready too.
The trilogy is not expected to happen though, because Pacquaio has already been dealt to fight withAntonio Margarito this November 13.